This shop has been compensated by Collective Bias, Inc. and its advertiser. All opinions are mine alone. #LoveAmericanHome #CollectiveBias
I love autumn. It's my favorite season of the four we have. I love everything about it from the seasonal foods available to the fragrances you'll find in the store. When the weather hits the 70's, well, it's pure bliss to me and I wish I could bottle it up and keep it that way year around.
In the last couple years, we've had so much going on that I haven't done a lot of decorating for the seasons and holidays. We've been focused on decluttering and not bringing a lot unnecessary items into our home. I've moved away from stockpiling (couponing days) to trying to live more simply.  In the last year, we tore out our carpet and laid hardwood flooring, which meant pulling every piece of furniture out of certain rooms so we could lay the floor. It felt so good to pull everything out of our living room and slowly add the things back that we really wanted.
We gave away furniture, got rid of numerous knick-knacks and started using things instead of storing them… like a set of china for everyday use instead of the once or twice a year during the holidays that we were using it for. My goal for our living room was to have it set up in such a way that it could easily be kept clean or take under 5 minutes to get it clean if someone randomly dropped by. I no longer have the desire to hold onto stuff and store it. That being said, I don't want our kids to miss out on similar memories I have from when I was a kid and we decorated for the seasons. I want there to be a balance between keeping it simple and making the season feel festive.
Simplifying Autumn Decor
Last week, when I walked into Walmart to get some groceries and check out their autumn decorations, I didn't have a full plan in my mind of what I wanted for autumn decorations. I knew I wanted some autumn fragrance candles and found the American Home™ by Yankee Candle® brand quickly in the home decor section (I picked their Pumpkin Apple Harvest and their Ginger Pumpkin Pie candles). I also wanted flowers, a rectangular basket or tray and something to make a sign out of. I already had a few things at home that I would add to the decorations. I wanted to focus on things that I could easily reuse after the season or toss into the compost pile. I didn't want to store a lot and I didn't want to purchase a lot of use and toss items.
There is nothing like decorating to help motivate you to clean up an area, right? We're still painting, we're still working on flooring and supplies like the paint cans keep floating around the house. I finally decided it was time to take them out of the living room and find a better, not so visible spot for them. And laundry, that got folded and put away as well.
The piano is really our only surface for decorating in our living room now that we gave away the china cabinet and a storage cabinet. I really don't miss the lack of surfaces to clutter.
All of our decorations will either be reused in other non-seasonal ways or they'll head to the compost pile when they die. The only thing I'll store is the small bale of hay but even that could be added to the compost pile or used around some plants.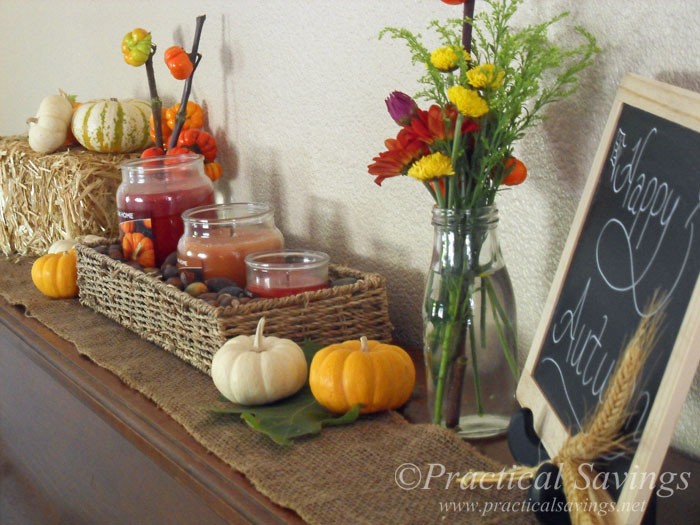 Five tips for keeping decorating simple:
Pick one surface per room to decorate (or even just one room). Who wants to dust around a bunch of stuff anyway, right?
Only buy things that you'll be able to reuse or toss in the compost pile.
Go with what you can find. Don't get so set on a particular item that you go all over town to find.
Use things from outside (real leaves, acorns, pine cones and rocks).
Dress up a room with some favorite fragrance candles and flowers.
What are your tips for keeping decorating simple? Do you have a favorite candle fragrance? Share in the comments below.
---