This shop has been compensated by Collective Bias and its advertiser. All opinions are mine alone. #EverydayEffortless #CollectiveBias
Sometimes life just gets busy and we get caught up in all the happenings of the day that we forget to take time as a couple to relax and just enjoy time with our spouse. My husband and I were doing really good with keeping up on having a date night consistently and then suddenly, life became busy and the consistency ended. A few months went by before either one of us realized that we hadn't gone out together in quite some time. Trying to juggle school, church and the house projects plus all the little things in between left us both so tired.
In the past, there have been a few times when we've gone out, picked up a special dinner and brought it home to share after the kids go to bed. Other times, I've picked up special ingredients and made an extra nice dish. This was one of those times. I decided a few weeks ago that I would bring date night home, plan a nice dinner and just enjoy a relaxing meal together. Last week, I mentioned to my husband that we were due for a date. Not realizing he was going to ask his mom to baby sit that same weekend, I started planning what I would cook for a special dinner.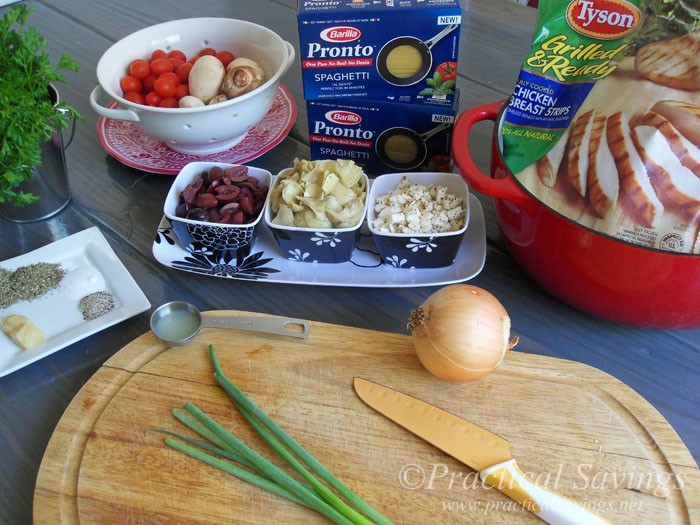 Even though we ended up going out last week, I still had this planned so after our dinner and dessert out, I asked if we could head to Walmart and pick up the ingredients to make a yummy, Greek inspired pasta dish (romantic, right? Honestly, it was fun. I enjoy shopping with my husband).
One of the frustrations of having a date night at home is cooking. The last thing you want to do is spend hours and hours in the kitchen in preparation for a date, right? I knew, going into my planning, that I wanted simple, fast but still be special.
A one pot dish are awesome, especially if you're using something like Barilla's Pronto pasta and Tyson's Grilled & Ready chicken strips. I love cooking from scratch. I love attempting to make nice, elaborate dishes. However, there are just times when I need something quick and easy and a date night is one of those times. If I can speed up the process without losing flavor and appearance, I'm all for something quick and easy for a date night meal.
So if it's been a little while since you've had a date night, why not plan one at home? Maybe surprise your spouse or have them in on it and helping with the preparation. Make an easy dinner like this Greek Inspired Chicken Pasta or check out #EverydayEffortless on Pinterest, dress up the table, light some candles and relax with your spouse.
Greek Inspired Chicken Pasta
The ingredients (recipe card below in post):
Barilla Pronto Pasta
Tyson Grilled & Read Chicken Strips
Artichoke Hearts
Kalamata Olives
Feta Cheese
Mushrooms
Tomatoes
Onion
Lemon Juice
Salt & Pepper
Garlic
Oregano
Green Onion & Fresh Parsley (for garnish)
Add your pasta to a deep pot like a dutch oven. Add the required amount of water and turn on your stove. Toss in your seasonings of salt, pepper, garlic and oregano. Also add in your garlic. Bring to a boil and let it cook for the required amount of time. If you're using the Barilla Pronto Pasta like I did, you'll want to keep your water to the right amount and cook it for about 10 minutes.
While the pasta starts cooking, prep your other veggies by taking them out of the jars and slicing up the mushrooms, tomatoes, onion and artichoke hearts. I also chopped up a little bit of fresh parsley.
After you water has begun to boil, add your chicken strips.
After about 7 – 8 minutes, start adding your other ingredients. Save the feta for last. Giving it a good stir ever-so-often, cook until the liquid is all absorbed. At this point, I then toss the liquid in from the artichoke jar. It has some oil in it to help the pasta from sticking, plus it just gives added flavor. You might need to add a little more olive oil, though.
Pair it with fresh bread and an olive oil balsamic dip, green salad with reserved feta, tomatoes and another olive oil balsamic vinegar dressing. Dinner is served! And it only took about 10 minutes.
[mpprecipe-recipe:4]
Want more effortless meal ideas for the busy days? Or help for a night that you want to relax and not spend so much time in the kitchen? Check out this Pinterest board: #EverydayEffortless
---