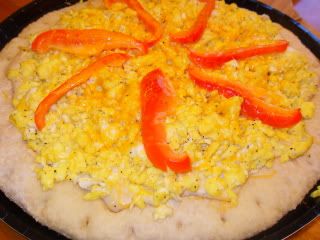 What do you do when you have pre-made pizza crust and eggs sitting in your fridge? You make a breakfast pizza of course! Right? Right. I will admit it was a little out-of-the-box for me. We're great pizza fans here and I usually just stick to what we love but one morning I needed to make breakfast and was trying to think of ways on how to use the starter crust my husband had wanted to try.
Breakfast Pizza
1 Pizza Crust
Sausage Gravy
8 Eggs
1/2 Red Bell Pepper
1/2 c. Cheese (I used the Kraft shredded 4 Cheese Mexican)
If your crust is frozen, thaw and pre-cook for about 10 minutes according to directions. While the crust is cooking, scramble the eggs, slice the pepper and make the gravy. Once crust is finished, add gravy with sausage, eggs, cheese and bell pepper. Place back in the oven until the cheese has melted (about 7-10 minutes). Serve warm.
---