Today was the day that we needed to make t-shirts for the kids' grandpas. I had bought the t-shirts during a recent Michael's sale ($3 ea) and I also found the paints on clearance for $1.79 ea which made me one happy shopper after discovering the paints are normally $5.99. Anyway, the t-shirts were a part of today's craft for school and will go in "Grandpa's gift basket" for Christmas.
The kids had so much fun sticking their hands in the paint and smearing it around. We haven't tried much finger painting but after today, I think the kids would love it.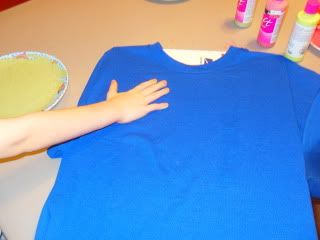 First hand print. I tried this (hand prints on a t-shirt) when our oldest was 6 months old. That was 6 years ago… it was way easier this time around with older kids. lol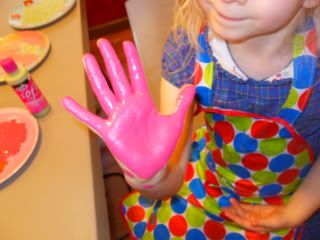 Pink hands… mommy was starting to wonder how easy the paint would come off. lol Hannah Joy was the most hesitant to put her hand in the paint and thought it was "squishy" but she quickly warmed up to the idea. lol
Group shot without the baby as he was still napping. I decided it would be much easier having the 3 oldest get their prints done and write the names before getting the baby up and trying to keep him out of all the paint. lol
Two prints done. Some of the prints came out a little light and since the paint instructions say to paint on two coats, I went back over them with a paint brush to make them stand out more.
The finished product. They're done and now just have to dry. I think the grandpas will enjoy them and now my husband wants one (little does he know that we actually made him one for Christmas while we were at it). 😉
We often try to do something personalized or handmade by our kids for our parents every Christmas. It doesn't always happen (depends on how organized I am lol) but we try and I know they appreciate it. This turned out to be an inexpensive project thanks to the clearanced paints but still meaningful and the kids had such a blast making them.
What are some of your favorite kid-friendly projects that you've turned into personalized gifts?
---