Ahh, let the holiday baking begin. Will you be busy this next week in preparation for Christmas? I started baking last week (not for Christmas though) and ended up with 8 dozen cookies. The only problem was that neither kind was dairy free or gluten free. The kids loved them but neither I or my husband were able to eat them.
What do you do when you have cookies in the house that you can't eat? Search the Internet for ones you can, right? Right.
There are tons and tons of recipes out there that looked oh so good but when it came right down to it, I was already tired from baking and wanted something incredibly simple. These gluten free dairy free peanut butter cookies are about as simple and quick as you can get it… they take just 4 ingredients (or 5 if you're adding the cocoa powder) to make plus, they taste so good.
You'll need sugar, peanut butter, eggs, vanilla and cocoa powder (optional). This can be done with a bowl and spatula/spoon but it's easier with an electric mixer like a Kitchen Aid if you have one.
Mix your peanut butter and sugar together. Add in the cocoa powder, if adding.
Add in your eggs and vanilla and mix until combined. If you're using an electric mixer, don't mix these too long.
Can I talk about cookie droppers for a second? I'm all for minimizing gadgets in the kitchen and I've lived this long without a cookie dropper so when Good Cook sent me their Stainless Steel Cookie Dropper, my first thought was that it looked neat but not necessary. And then I used it. And used it again. I've only had it for a week (maybe a little longer) and I've already used it about umm… 4-5 times. I love the gooey-less hands and yet I still have round cookies. Another thing it's good for… it's a great time saver. Rolling cookie balls takes about twice as long as this takes.
I didn't take the time to make them real neat since they were about to be mushed anyway and well, I was tired. 🙂
Let the mushing begin! Take some sugar in a bowl and a fork. Dip the fork in and press down on the cookie balls. Now for some reason, I always associate crisscross patterns with peanut butter cookies but you really don't have to do that. It's up to you, since you're making them. 🙂
Stick them in the oven and bake for about 18 minutes.
Remove them from the oven and let them cool on the cookie sheet for about 5 minutes.
Remove them from the cookie sheet and place them on a wire rack.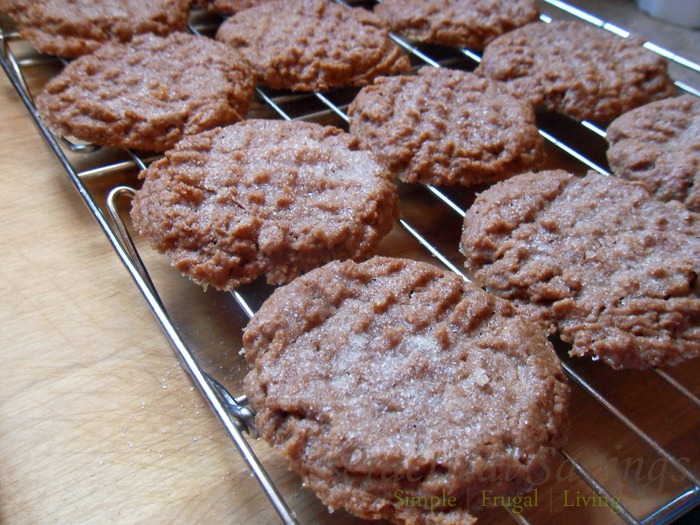 Eat warm or allow to cool completely.
Now these don't have a strong chocolately flavor but the cocoa added a nice little flavor. You could always add chocolate chips, peanut butter chips or some other kind of candy to them but since I needed mine dairy free, I just stuck with the plain powdered cocoa.
[Tweet "Recipe for Easy Peanut Butter cookies that are gluten and dairy free."]

Yields 24
Easy Peanut Butter Cookies - Gluten Free Dairy Free
10 minPrep Time
18 minCook Time
28 minTotal Time
Ingredients
1 cup peanut butter
1 cup sugar
2 eggs
1 tsp vanilla
1 tbs cocoa powder, optional
Instructions
Preheat oven to 325 degrees.
Mix the peanut butter and sugar together in a medium bowl.
Add in the cocoa power if including it in your recipe.
Next add in the eggs and vanilla.
Mix until just combine. If you mix too long, you'll make the cookies tough.
Roll the dough or use a dropper and place the balls on a pre-greased cookie sheet.
Bake for about 18 minutes.
Remove from oven and let cool on sheet for about 5 minutes.
Remove from sheet and finish cooling on a wire rack.
7.8.1.2
48
https://practicalsavings.net/gluten-dairy-free-peanut-butter-cookies/
Kelly Lockwood (Practical Savings)
So what is your favorite cookie recipe? Any tips or tricks for cooking making made easy?
Follow Practical Savings's board Desserts on Pinterest.


---