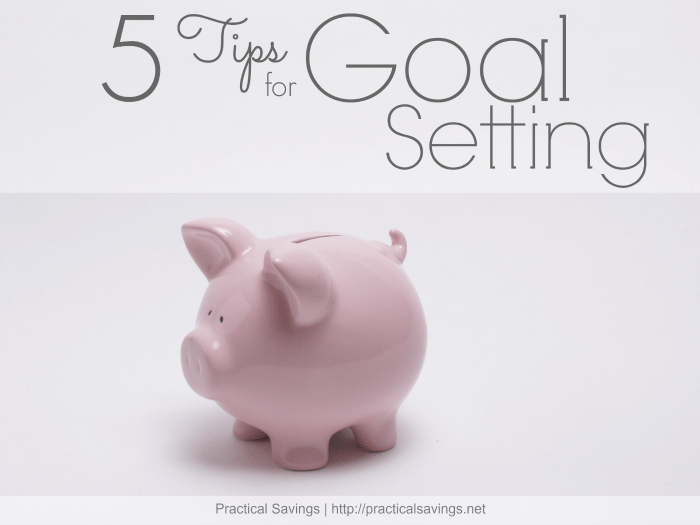 It's the new year and with a new year come New Year's Resolutions or goal setting, right? In the past, I've made goals and have failed miserably at them year after year. I would make this long list of goals, but then I would often bypass the planning of how I was going to attain those goals. The perfect recipe for disaster when it comes to setting and working on goals. 
I decided this year things would be different. Instead of coming up with a long list of what I want to change or accomplish in the year 2015, I'm keeping it to just 5 and making sure they are attainable. I have a goal for myself, for my family, for my home, for our finances and for this site. I entered 2014 in a complete burnt out state (thus taking so much time away from blogging). I don't want 2015 to be a repeat. I believe goals are good. They give us something to reach for, to work towards. I think we put a lot of hope and dream into our goals and maybe not enough practicality, so lets start the year right and make those goals reality.
[Tweet "Bring your hopes and dreams to reality by being practical in your goals. #goalsetting"]
Here are 5 Tips to Goal Setting:
Keep it Simple – keeping your goals simple will help you not feel overwhelmed by your goals. Becoming overwhelmed with goals leads to defeat.
Keep it Realistic – making a goal to save $10K in the year might not be a realistic goal for many of us. Saving $1K might even be really stretching it for some of us so keep it realistic. Base your goal on something you know you can accomplish.
Plan Accordingly – going into any goal needs planning. You can't just decide to save $100, $1K, $5K or $10K without some kind of plan. Whatever your goals are whether they be saving money, weight loss or something else, you need to go into it with a plan. How are you going to accomplish that goal once you figure out if it's realistic?
Don't Compare – the Jones' might be saving $10K this year and you're only going to be able to save $100. Your income might also be a fraction of what the Jones' bring in. Don't compare your goals to those of others. You'll quickly get discouraged.
Acknowledge Failure – we will all fail at one time or another… it might be a piece of cake while we're on a diet, it might be spending that extra $10 instead of saving it. Acknowledge the failure and get back on track. Don't beat yourself up over it because eventually, it will wear you down and you'll give up altogether. Failure does not have to be defeat.
Click HERE to download and print your free 2015 Goals worksheet.
What are some of your goals for this year? I'd love to know some of them. Feel free to share in the comments below.
---