An Update:
The below was written a few years ago and while much of it is still true, we have since changed the way we eat and live. I no longer stockpile and only coupon minimally. Do I believe it was a waste of time before? No. I learned a lot from my couponing years. We were able to share so much with friends and family, as well as donate to the local mission.
What has changed and why? We started eating healthier and yes, you can use coupons for better products, not just processed, but they are definitely fewer and harder to come by. I do buy in bulk as this post talks about. We still have a lot of food on hand, but it's not processed and in a box. It's beans, rice, corn, raisins, oats, sugar, flour, etc.
Why did I stop stockpiling? We needed room, we sold our second vehicle to cut costs and I was just tired of being surrounded by stuff. Our season in life changed and with it, our priorities and needs.
The Benefits of Couponing and a Stockpile
When people find out I coupon, often times I hear "I don't have time for it" or "I don't really save all that much." There is little doubt that couponing takes time. You have to learn something new and you have to think through each transaction. I have been known to write down every transaction I was going to do. I would include my starting total, what my total coupons were and what my ending total would be. I would also tag on what rewards (RR's, ECB's, +UP's or OYNO) I should receive once I paid. I had to do this with 4 little ones or I'd make one mistake after another. So yes, couponing takes time. Thankfully, there are websites out there like We Use Coupons where people are sharing the deals they find and posting matchups for you. That can save you a big chunk of time.
What about savings? You won't save much if you use a coupon here and there. It's just not going to happen. You have to match your coupons with sales. Don't just go out and buy something because you have a coupon for it. You'll spend more money than ever before. When you match a coupon to a sale, you're more likely going to save more money than going to a discounted grocery store. If you shop just the sales with your coupons, you'll be able to build a stockpile which will get you through until the next sale. You have to figure out how much you'll use before the next sale, how long it will last before expiration dates and how often the sales happen (often, every 3 months).
You may have seen the new TLC show 'Extreme Couponers' where they have thousands and thousands of dollars worth of products. I know some of them donate (which isn't always shown on the show) but you still don't have to be that extreme. I know for my family, we have no room for that much, but we do have enough room to get us through a few months and even a year for somethings that won't expire for some time (like shampoos).
Serious couponing allows you to stock up, which allows you to have products on hand. For me, at this time, it's worth the time and effort I put into it. That may change down the road but I'm okay with that.
I'm sharing some pictures of our stockpile below.  Because of our stockpile, we've been able to get through the hardest year+ financially without wondering where food was coming from, how we'd be able to afford diapers or how to stretch out the shampoo.
Some things to remember as you start couponing:
Take one store at a time (don't go all out and start couponing at every store, start slow and get familiar with each store and their policy)
Get organized – find a method that works for you (binder, filing, etc)
Buy 1 paper per family member (if there's 2 of you, buy 2 papers) or more if you want to create even a small stockpile
Focus on what you normally buy. There are times where there will be a money maker or a really good deal on something you don't buy but primarily focus on what you normally use.
Keep a copy of each store policy with your coupons.
Be patient with the stores. Don't assume the managers and cashiers know their own policy. Often they don't and are okay with you showing your copy, but that might also put off a few so be gracious.
Over the years of couponing, I have been able to develop a nice shopping relationship with several cashiers in the drug stores. They know me and my children by name as well as I know them by name. Coupons are a privileged, not a right. In fact, if you contact the manufacturers, they will tell you that each store has the right to refuse coupons. It's up to the store. So when you're faced with a cashier or manager who doesn't know the policy or decides to limit, remember it is only a privilege. On to the pictures…
Here is our baby items stockpile. Not pictured are about 18 small packages of flushable wipes.
Here is our laundry room where the bulk of our stockpile is. The orange buckets below contain our beans, rice, sugar and flour. I realize they aren't labeled food grade but it's what we have for now.
*Note: The orange buckets were quickly replaced with food grade buckets. 🙂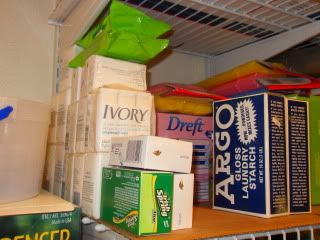 And here are some other pictures of what we have in our bathrooms (we have two bathrooms).
---