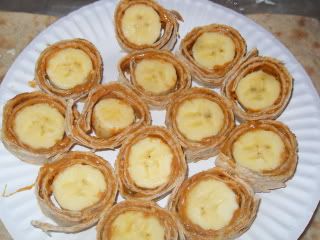 My children love snacks so I'm always looking for healthy ways to curb that seemingly constant appetite they have. This is really simple, really basic so if there are no allergies in your family or dislikes, the time and cost spent is very little. The amount of each ingredient needed will depend on how many you're serving.
Banana Wraps
Lavash Bread (tortillas will work too)
Banana
Peanut Butter
Honey
I suggest warming the lavash bread or tortillas before starting but not too warm. Spread a thin layer of peanut butter on the bread or tortillas. I leave the banana whole but I straighten it. Drizzle honey over banana and roll. Slice in wrap sizes (about 1-1/2 inches thick). Serve.
(Mine pictured were not wrapped very tight, they can be wrapped tighter, I was just in a hurry as I had 4 clamoring munchkins). lol
My kids love these and depending on your ingredients purchased, can be healthy.
---