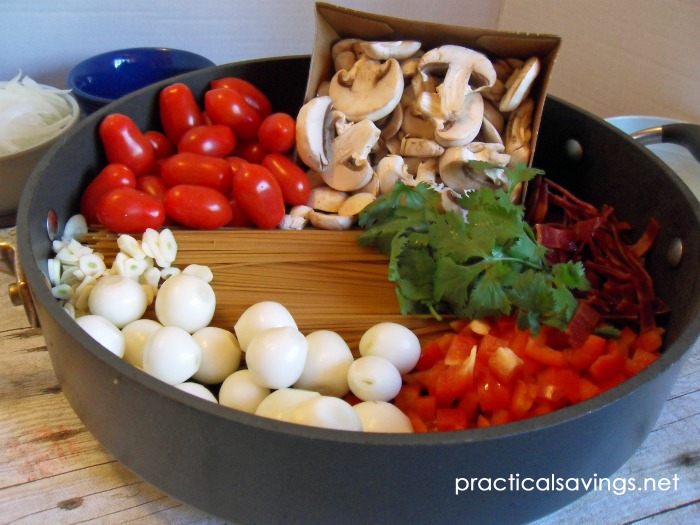 Nothing beats a simple, easy meal. We're a family of 7 and when you have to wash a plate, fork and cup for each person but then add on top of that all the dishes from making a meal, well, simple is good! 🙂 I love slow cooker dishes but I also love one pot meals. They keep the meal simple, the dishes minimal and are often less time consuming to cook. This one is pretty versatile and you can add your favorite in-season veggies to help make it more cost effective as well as adding different flavors.
Before I get started, I need to mention per FTC rules that several products mentioned in this post were provided by Good Cook but trust me when I say I give honest opinions on products mentioned whether they are sent to me or I pay for them myself. 🙂
[Tweet "Try this incredibly easy, one pot pasta dish. "]
You'll need the following to make this one pot pasta meal (or change it up by adding what you have on hand):
Bacon (I used turkey)
White Pearl Onions (or any onion for that matter, just slice it thin)
Red Bell Pepper
Garlic
Cherry or Grape Tomatoes
Mushrooms
Pasta
Cilantro (or you can use basil but my stores were out of basil and my husband loves cilantro) 🙂
You'll also need olive oil, salt, red pepper flakes and Parmesan cheese. Sounding yummy yet?
I love cooking bacon in cast iron. There's just something about it that makes the flavor come out. Well, at least I think so but it could all be in my head. 🙂 So anyway, brown your bacon and set aside.
You can either chop it into strips like I did or crumble it. Turkey bacon doesn't seem to crumble well so I chopped.
Now take your cilantro or basil or whatever herb you picked up from the store or from your herb garden and wash those leaves. I love salad spinners. They intrigue me and they are a great replacement if you're no longer buying paper towels when you need to dry your leafy greens.
More chopping… or slicing. Actually, you don't even have to cut your tomatoes but I did because I'm having fun with my Good Cook knives.
So here we are with all our yummy extras that will be tossed into the pot. Yes, my salt is pink. I discovered WinCo has Pink Himalayan salt in their bulk bins and I just had to grab some. Pink is not my favorite color but it's so different so yeah, we have pink salt now. 🙂 Oh! See that yellow and white measuring spoon? That happens to be Good Cook's Flip Measuring spoon and I have to say… awesome sauce. I love that thing. I've only had it a couple weeks but seriously! It's awesome. I'm constantly running out of measuring spoons and I love how space saving it is. Instead of buy a third set of spoons, I have a 4-in-1!
It's time to get the water in the pot, toss in the pasta and start working on adding the other ingredient. I recommend letting the pasta cook for a few minutes before you start adding in your veggies. That way, they'll stay a bit more crisp… unless you like soggy veggies. 🙂 Oh, and reserve some bacon and veggies to add for serving. It's just better that way. 🙂
Pretty, isn't it? The water will cook down to almost nothing.
Raise your hand if you've ever hand utensils slip into the pot!?! I can't tell you how many times I have had that happen to me. I think it's positioned just right, I turn away only to turn back and it's already in the boiling pot. I really like Good Cook's Pot Clip Holder. I didn't know these existed until I received mine. It's perfect for the smaller utensils and I hope they come out with another one for larger utensils. It also helps with keeping the stove clean (if you're like me and put the utensil down between the burners).
So while the pasta is cooking, you can make this sauce to got with it, or you can wait… or skip it altogether. That's the nice thing about dishes like these. They can be flexible. 🙂 If you do decide to make this drizzle sauce, you'll need more cilantro, mayonnaise, sour cream and lemon juice. Mix it all together and set aside.
Plate that dish up, sprinkle some fresh onion slices, a few extra bacon strips (or crumbs) and top with some more cilantro.
Ahhh…. pretty. And yummy.
And here it is with the sauce drizzled on it. Just enough to give it an extra boost of flavor but not over power the other flavors.

Kelly @ Practical Savings
Yields 4
The One Pot Pasta Dish
20 minPrep Time
10 minCook Time
30 minTotal Time
Ingredients
12 oz Pasta (linguine, spaghetti, angel hair or something along those lines)
1 Red Bell Pepper
10 oz White Pearl Onion (or one whole white onion)
5 Garlic Cloves
10 oz Cherry or Grape Tomatoes
10 oz Mushrooms
1 pkg Bacon
1 t Red Pepper Flakes
2 T Olive Oil
1 bunch Cilantro
1/2 cup Mayonnaise
1/2 cup Sour Cream
1 T Lemon Juice
5 cups Water
Salt to taste
Parmesan
Instructions
While your bacon is browning, wash and chop all your veggies.
Remove bacon from pan (if you're using pork, drain the grease out) and pour your water in. Heat your water and place your pasta in. Add the olive oil and stir the pasta around. Add in your salt and red pepper flakes.
After the pasta has cooked for a couple minutes, start adding your veggies. Once the pasta is al dente, remove from heat. Top with fresh veggies, bacon, Parmesan, and cilantro. Serve warm.
To make the sauce, combine mayonnaise, sour cream, lemon juice and cilantro (the amount depends on how much you like the cilantro flavor but I used about 1/3 cup). Mix well. Add a tablespoon or two of water to thin and drizzle over pasta.
7.8.1.2
51
https://practicalsavings.net/one-pot-pasta-dish/
Kelly Lockwood (Practical Savings)
Follow Practical Savings's board Main Dishes on Pinterest.
---