Have you ever bought the Nestle Toll House cookie dough in the refrigerated section at your grocery store? The ones in the flat rectangle package where you break them and cook them? I realized that concept could be done at home for large batches of cookies.
I had 3 boxes of the Krusteaz Chocolate Chip cookies mixes that I wanted to use up but I knew I didn't want all those cookies around. I often bake on Sat. for church on Sunday so I decided I would love to make a big batch up and freeze the dough so I could pull it out on a Sat. and have something ready to go if it was a busy day.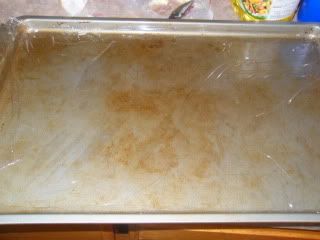 Line your cookie pan with saran wrap (I used a little Pam on the pan before laying the saran wrap down that way it would stick to the pan). You could probably use wax paper, however, you need to spread the dough as evenly as possible and sometimes wax paper can bunch up in the corners. You could also try aluminum foil but I went with saran wrap so I don't know for sure if foil will work all that great. Lightly spray the saran wrap once placed on the pan.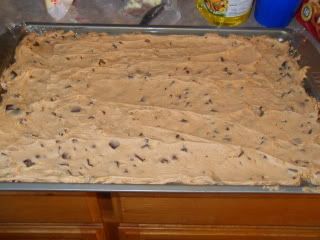 Spread the dough as evenly as possible on top of the lightly sprayed saran wrap. Make sure the corners are the same thickness as the center. Place in the freezer until hard. Approx 45-60 minutes.
Once frozen, remove from freezer and cut into quarters. If you divide the pan into 4 sections, these will fit easily into gallon ziplock bags.
Once the sections are cut, score each quarter (I recommend working with one quarter at a time and putting the others back in the freezer) to the size you want. Try to make them as even as possible. Notice mine aren't all that even and I discovered once I went to bake them that they really need to be the same size and thickness to get an even bake.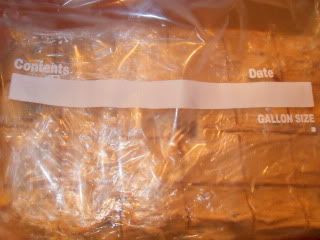 Wrap with saran wrap once you're done scoring. If they aren't going to be in the freezer for very long, you can stick them in a ziplock. If you think they will be in the freezer for longer (I'd say a month or more), wrap them in saran wrap and then in foil. Pull them out as needed. 🙂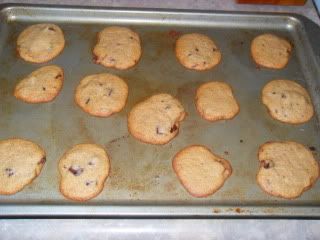 I baked one batch about a week after I had made the dough and froze it according to above. Notice the uneven sizes. I had to keep them in the oven for just a little bit longer because of the bigger cookies which caused the smaller ones to get a little more done. Nothing burned and they still tasted yummy, but that is the reason you want to spread the dough evenly prior to freezing and then scoring them as evenly as possible for when you break them later one.
---