A couple weeks ago I posted about Cutting Curriculum Costs and listed several options that can be helpful in reducing the costs of curriculum. I thought I would go a bit more into what resources we use to cut costs for our curriculum.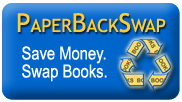 PaperBackSwap is one of the first online sites I go to once I know what we need for curriculum. There is a huge variety of books on PaperBackSwap, plus their features like Wish Lists and Reminder Lists can help you keep things straight.
What and how does PaperBackSwap work? For starters, you sign up (it's free to sign up) and after you list your first 10 books to trade, you'll receive 2 credits. As people request your books, you'll receive more credit for those or you can purchase credits in the PaperBackSwap Kiosk.
Once you have your credits, you can start requesting books for yourself. As of right now, the only cost to you is to ship the books you have listed that others have requested. The price will depend on the size and weight but they ship Media Mail so they are often around $2.25 and under.
For us, this is a huge saver. The workbooks we use cost $10.49 each and with one child entering 2nd grade, another entering 1st and our third going into Kindergarten, that $10.49 per book adds up quickly (especially since the two oldest need 12 and 10 workbooks ea for the school year).
Despite PaperBackSwap's wide variety of books, sometimes the book you want just isn't listed. This is when the Wish List comes in handy and will help you keep the books you want straight. You can still search for unlisted books and add them to your Wish List. Once the book is entered into the system and depending on where you are in the waiting list line, you'll receive a notification that the book is now available and you'll have 48 hours to request it before they move on to the next person on the waiting list.
Once you request your book, the sender has about 5 days to mail the book. When you receive the book, you log back into PaperBackSwap and mark that you've received the requested book. PaperBackSwap asks about the post-mark date (if visible) and the postage on the package. These both help them know time frames and costs for shipping.
PaperBackSwap books are suppose to be in a certain condition. When you list your own books to trade, they will give you guidelines to follow to make sure your book meets the requirements. So far, we've received many of our curriculum workbooks through PaperBackSwap and I haven't had any problem with them looking anything else but new.
And look what came in our mail the other day! These are the workbooks we currently use that new, they'd cost us $10.49 each! You can see the book underneath had a sticker on it (I tried peeling it off but didn't succeed). That one is the most "damaged" or used out off all the workbooks we've received have been.
I don't just use PaperBackSwap for curriculum workbooks. I also often request biographies and books that I would just love to read. My Wish List on PaperBackSwap is actually quite long. I've found some really great treasures along the way, in fact, I requested a book last week and the sender messaged me letting me know that it's from 1914! Those have been some of my absolute favorites and I'm looking forward to receiving my next book.
Coming next week… how I use Amazon
to help in Cutting Curriculum Costs!
---