This shop has been compensated by Collective Bias, Inc. and its advertiser. All opinions are mine alone. #SwapMilk4Silk #CollectiveBias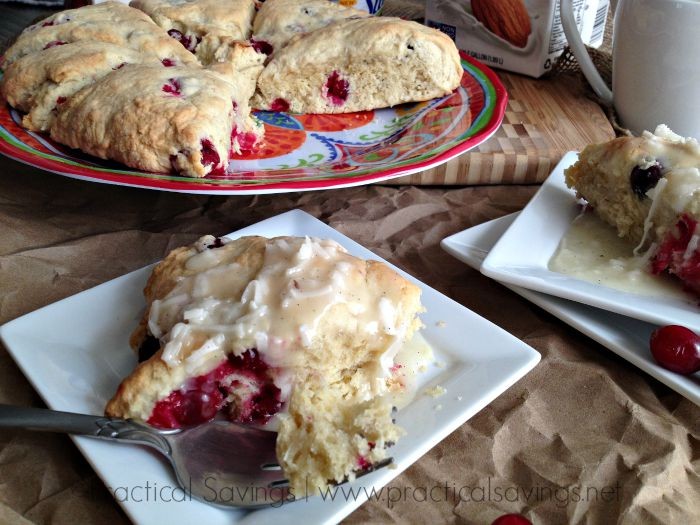 Coconut Cranberry Scones with Coconut Vanilla Bean Yogurt Glaze
The weather is starting to change around here and I'm so thrilled. I don't like the heat so when our summers hit and we have triple degree weather, I want to crawl into a cool, dark room with our evaporative cooler blowing full blast (it only has one setting). This morning, when we woke up, we opened the window all the way. It wasn't breezy in the least, but you could feel the cool air coming in and I can definitely tell autumn is on the way.
I love autumn. It's my absolute favorite season out of the four. The leaves changing colors and floating down to the ground. The change in the air and clouds. The scents and flavors (yes, I'm a complete pumpkin flavored fan). Apples are ripe and ready for canning. I just love autumn and I'm so ready for it to be here.
Over the weekend, I wanted to make some scones (another thing that reminds me of autumn) using some Silk Cashew milk and Silk Vanilla yogurt I picked up at Walmart recently. I was browsing Pinterest for some flavor ideas and just started getting giddy with the autumn flavors like pumpkin and apple that were popping up. I finally settled on just creating one using ingredients on hand and decided to make a coconut cranberry. While coconut isn't an autumn flavor, cranberries remind me of Thanksgiving and I decided it was time to indulge in the flavor using some cranberries I had stashed in the freezer from when they were in season last year.
This is not a dairy free recipe as I'm using butter but if you are completely dairy free, switch out the butter with whatever you typically to use in it's place. Why did I pick up the Silk Almond and Silk Cashew milk when I'm not dairy-free? My husband started having some health issues a few years ago and our doctor recommended reducing his dairy intake. We switch to almond milk almost exclusively for quite some time and while we both like almond milk, I missed the thicker, creaminess of regular milk. Cashew milk is definitely closer with being thicker, creamier and just has a nice flavor.
So let's make some somewhat autumnish scones today, topped off with a nice coconut vanilla bean yogurt glaze.
Side note: If you don't want to spend the money on vanilla beans (I just had some on hand), you can pick up a yogurt like Silk Vanilla, which I used in this recipe. You can see the vanilla bean seeds right in the yogurt and it keeps you dairy-free if needed.
Mix your flour, sugar, salt and baking powder in a bowl. I like to use a whisk to fluff it up a bit. Cut in your butter or dairy free option with a pastry blender, two knives or food processor until your mixture looks like find crumbs.
Add your egg, milk, cranberries and coconut. Mix until dough leaves the side of the bowl.
Knead dough about 10 times on a floured surface (it will no longer be sticky to touch).
Pat into a circle on an ungreased pan and cut into 8 wedges. Bake in a preheated oven at 400 degrees for 14-16 minutes or until lightly golden brown.
For the glaze, cut open your vanilla bean and scoop out the seeds. Place in a bowl with powdered sugar, yogurt and coconut. Stir until well mixed. For a thinner glaze, add a couple teaspoons or more of milk, until you reach the desired consistency.

[mpprecipe-recipe:3]
Be sure to check out more delicious recipes at Nurturing and Nutritious. I'd love to hear your favorite!
---