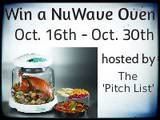 Who would love to win a NuWave Oven?
Check out these yummy recipe reviews: Deda's Stuffed Green Peppers and Chicken Parmesan, Kelley's Rosemary Chicken Breast and Apple Crumb and Bargains 4 WAHM's Sirloin Steaks and her New York Steak Strips!
Want to win your own NuWave Oven? Enter on the Rafflecopter form below!
---